The Club owns several huts in Canterbury, which provide a good base for mountain activities. These are available either free of charge or at reduced rates for members. Members also have free access to Empress Hut.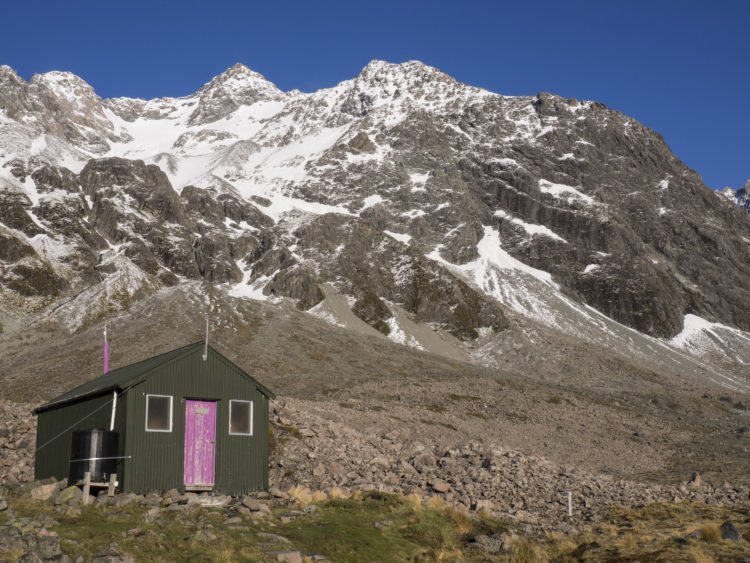 The Club has a long and proud history of building huts in the mountains. The dedicated hut maintenance team led by Graeme Jacobs and Robin Muirson carry out regular repairs and upgrades. This is a significant cost to the Club, both in cash and especially in the time put in by Graeme, Robin and their team. If you would like to help out please contact Graeme.
Please take care to avoid fire. Candles put our huts at risk. All huts have fire extinguishers and fire blankets for smothering flames.
Please remove your rubbish and remember to fill out the hut book.
As a club member if something needs attention or repair please let Graeme know.
The preferred payment method for hut fees is through the online payment system. Hut fees can also be paid by direct credit to the CMC bank account 03 1592 0103242 00, putting your name, date of stay and the hut name in the payment details.
Free for members, $15 for Lyell hut and $10 for all other huts per night for non-members.
NOTE: DOC Hut tickets are not valid for any CMC huts
The Club has two lodges. Kennedys Lodge nestled in Arthurs Pass is perfect for a weekend trip from Christchurch. Wyn Irwin Lodge is the CMCs base for trips into Aoraki/Mt.Cook, located adjacent to White Horse Hill campground.
The following procedure is in place for hut fees – please read carefully:
* Wyn Irwin and Kennedy Lodges both have combination locks fitted.
* Lodge fees MUST be paid online using the CMC website prior to arriving at the hut. Please do not phone our huts officers asking for the code. Following the completion of payment, you'll receive an email with the lodge code. The combinations for the lodges are not available from anyone in Arthur's Pass or Mount Cook.
* If you don't receive an email with the code, please check your "junk" or "spam" emails for a confirmation email. More often than not, this is where it ends up.
* There is no booking system. If you are a large group please let Cam Mulvey know (021 202 7650). We update the calendar when we know large groups are intending to stay at our lodges.
* The lodge codes are changed weekly at Wednesday midday. Please do not pay your huts fees too early or else the code emailed will be out of date. Our system is not too smart. For example:
– Paying hut fees early on Monday for a stay the following Saturday will result in the code being out of date
– Paying hut fees following midday Wednesday for a stay the following Saturday will work
* If your stay encompasses Tuesday and Wednesday nights, or for some reason, you don't receive the confirmation email with the hut code, please contact Cam Mulvey (021-202-7650) or Graeme (see contact us).
* The club has installed a whiteboard at each lodge. Upon arrival you can check the occupancy of the two bunk rooms and decide where you want to sleep. Write your name on the board so that the next arrivals can see how full each bunk room is. We hope this procedure will reduce the amount of disturbance caused by late arrivals. Remember to rub off your name upon departure.
* Our committee members, volunteers and hut wardens occasionally undertake checks of payment for lodge users. Please don't be offended if we ask for confirmation of payment and/or membership.
*Please take home all your rubbish, remember to complete the hut book (name, address and number of nights you stayed) and leave the lodge tidy (including a vacuum, and washing/drying all dishes).
Thanks for helping out. In 2022 club volunteers spent far more on hut maintenance, rates, electricity, fire inspections and water than we received in hut fees. If everyone chips in with their hut fees, we can continue to provide this service at great value for generations to come.
Members – $15
Non-Members – $30
Under 18s – $10 per night.
Under 12s – Free